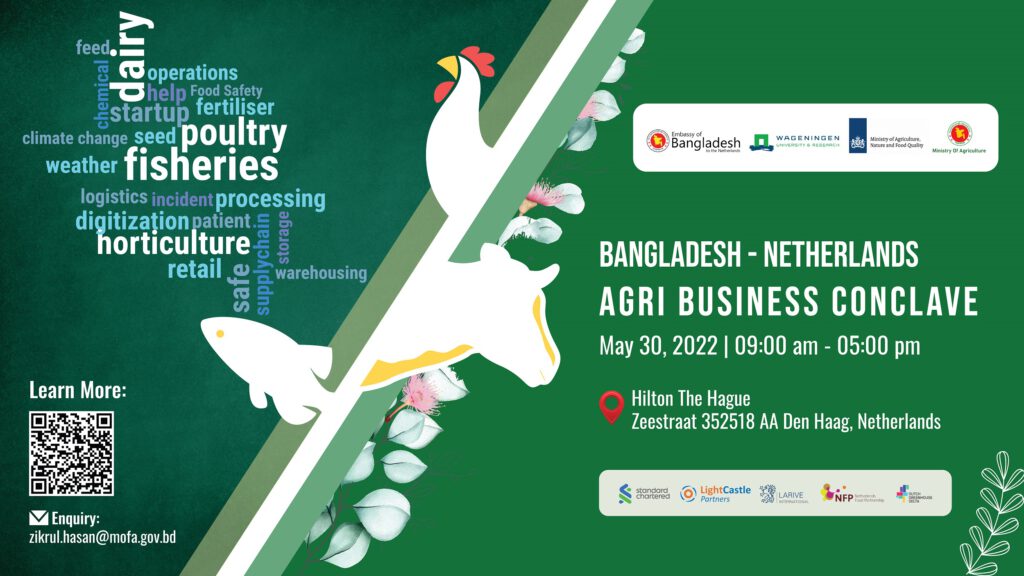 Embassy of Bangladesh in the Netherlands, together with Rijksoverheid, Netherlands Enterprise Agency (RVO), Wageningen University & Research, Standard Chartered Bank (Bangladesh) Netherlands Food Partnership, Dutch Greenhouse Delta, LightCastle Partners, Larive International, TopSector Agri-Food, are bringing together the leading #entrepreneurs from #bangladesh across #livestock#dairy #fisheries #aquaculture#horticulture #poultry to #netherlands at the (in person) Conclave.
Are you…
➡️ a Dutch company/entrepreneur/SME/innovator in agriculture?
➡️ interested to inquire about opportunities in Bangladesh in these sectors?
➡️ open to explore collaborations/engagements in Bangladesh?
WHEN: 30 MAY 2022
WHERE TO MEET: @ Hilton The Hague, Zeestraat 35, 2518 AA The Hague, Netherlands
More details 👉 zikrul.hasan@mofa.gov.bd, mission.hague@mofa.gov.bd
This won't be a conventional seminar. The 40+ leading 🇧🇩 individuals are coming to listen to perspectives, insights from Dutch agri-science n #agribusiness; and open to explore/discuss possible collaboration drawing on Dutch technology and innovation.
Context
The past five decades has seen notable accomplishments in Bangladesh agriculture. Bangladesh now features in the global rankings in production of some of the key cereals or non-cereals and across diverse subs-sectors i.e. horticulture, livestock, fisheries, poultry.
Beyond manufacturing, a transformed agriculture promises to be the next big growth story for Bangladesh – in meeting the fast-rising local demands as also entering global markets. In moving to the next level, several key challenges in Bangladesh agro-food sector need to be addressed. With declining farmland-use intensity, shrinking arable land, competing use of freshwater and rapid urbanization, Bangladesh Agri – Food – Water nexus wants to tap Dutch technology – innovation to look deeper. This is also to address the Climate Change challenges e.g. rising sea level and salinity in Bangladesh agriculture.
Bangladesh agriculture aims to focus more on 'value' than 'volume' to meet the national demands as also to emerge as an agro-food exporter. To realistically tap opportunities, Bangladeshi entrepreneurs are open to explore cutting-edge knowledge – technology – innovation. In recent times, the Dutch private entrepreneurs are showing growing interest to collaborate with credible–responsible–transparent Bangladeshi entrepreneurs/companies by sharing their knowledge and technology.
Why the Netherlands?
The Netherlands is around 30% of Bangladesh in land area. There is much simialrity between the two deltas. Recognizing growing potential to convert the endemic 'challenges into opportunities' and bringing the Dutch agro technology – innovation to Bangladesh, RVO has so far conducted five Market Scans (Seed, Feed, Horticulture, Poultry, Fisheries). Several Dutch business delegations have visited Bangladesh since recognizing growing business worthiness in Bangladesh, on 'win-win basis'. These illustrate potential to form mutually gainful partnerships in Bangladesh with the Dutch entrepreneurs, SMEs, companies. Implementation of the Bangladesh Delta Plan 2100 promises to open up further opportunities for transformative engagements in Bangladesh agriculture.
Why this Conclave?
This Conclave is to bridge 'signals' between credible – responsible private sector from Bangladesh and the Netherlands. In the Conclave (in-person), in the Hague, the Dutch entrepreneurs are expected to introduce some of their niche technology – innovation that could be of interest to Bangladeshi peers. In general, Bangladeshi participants are keen to learn of Dutch knowledge to augment production, develop key – agile – transparent supply chain, ways to produce safe – quality – chemical free fruits and vegetables and other animal products etc.
The Conclave would be held in World Cafe Format, steered by the Wageningen Metropolitan Food Cluster.
In the break-out sessions, sector-specific Dutch leads would engage with the Bangladeshi business leaders, share some of the Dutch technology-solutions-innovation of possible relevance to/in Bangladesh and engage with the Bangladeshi entrepreneurs to respond to their specific business propositions or collaboration in collaboration with potential Dutch business.
The following day of the Conclave (31 May), some of the Bangladeshi participants would like to visit and interface with leading Dutch tech companies/enterprises of their of interest in e.g. Boxmeer (animal genetics), Friesland (dairy), Wageningen (agro-innovation or startups) etc.
Anyone interested to know the details of the 40+ Bangladeshi participants, may please email (Mr. Zikrul Hasan Fahad, Second Secretary) <zikrul.hasan@mofa.gov.bd> for the List of their Profiles.
Tentative

Program