H.E. Mr. Sheikh Mohammed Belal, Ambassador of Bangladesh to the Netherlands called on Mr. Bram van Ojik, Hon'ble Member of Parliament of the House of Representatives (Tweede Kamer) of the Netherlands yesterday at the parliament building and urged support for implementation of Paris Climate Agreement.
Mr. Bram van Ojik is former head of this green progressive party called GroenLinks which has more than tripled its support in the recent general election held in the Netherlands. GroenLinks has been invited for taking part in the coalition government but it is likely that GroenLinks would prefer to push the climate agenda irrespective of their positon in the government or not.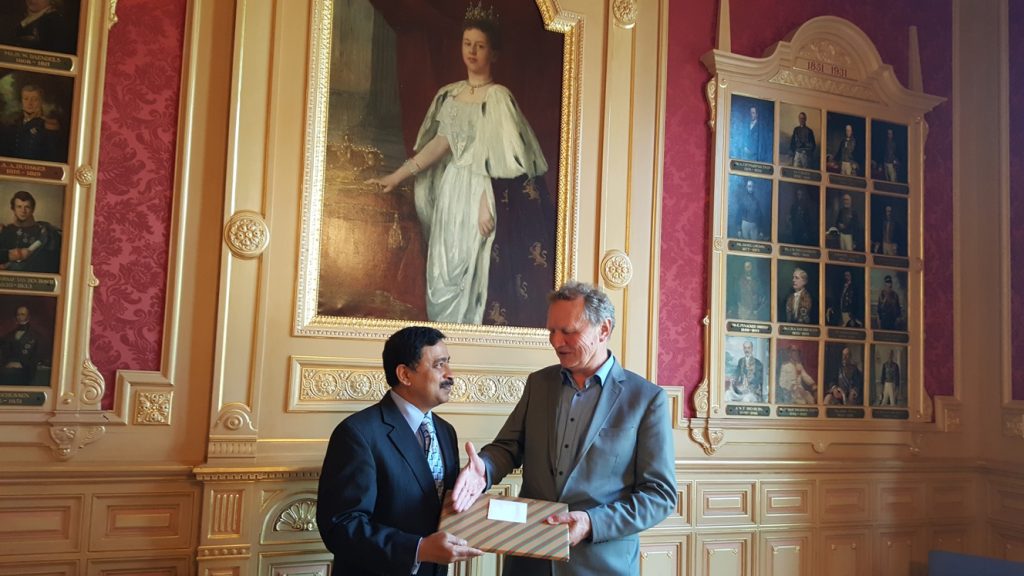 During the meeting with Mr. Ojik,  H.E. Ambassador congratulated Mr. Ojik for his party's election success. H.E. Ambassador briefed Hon'ble MP about the significant achievements of Bangladesh in the socio-economic arena such as maintaining an impressive economic growth, significant stride towards achieving SDG. Ambassador Belal explained to the Member of Parliament that climate change is a matter of survival for Bangladesh and in this context Bangladesh needs the help of Netherlands and other likeminded states in implementing the Paris Agreement.
Mr. Ojik recognized the significance of the effective policy on climate change. He also pointed out his party's policy on refugees and underlined the necessity of collective good.
Appreciating the role of the Dutch government, H.E. Ambassador urged support from GroenLinks for continuation of the programs like fair pricing, sustainable compact campaigns, capacity building in the RMG sector. Ambassador Belal categorically proposed for a Nuffic funded pilot on capacity building in the RMG sector. H.E. Ambassador finally raised visa related issues and urged liberal visa policy if they really looking for a growing trade relations with developing country like Bangladesh. Elaborating on Bangladesh's geo-strategic location and size of domestic market, Ambassador Belal shared how some other countries in the region are competing to get a slice of trade and investments with Bangladesh.
Mr. Ojik acknowledging Bangladesh's socio-economic success regretted for not being able to visit Bangladesh in the past. He, however, assured Ambassador Belal that he would visit Bangladesh at the shortest possible time. Because he believes it is in the interest of those who believes in the reality of climate change should do their utmost for climatically vulnerable countries like Bangladesh. He did not forget to mention that he received very positive feedback from the Dutch IPU delegation who visited Bangladesh in April this year.