Dr. Shirin Sharmin Chaudhury, MP
Hon'ble Speaker of the Parliament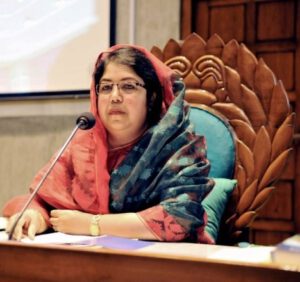 Dr. Shirin Sharmin Chaudhury, MP was born in 1966 to a humble and prosperous family. Her father Late Rafiqullah Chaudhury was a Former CSP. He served as a Secretary to the Prime Minister Bangabandhu Sheikh Mujibur Rahman (1972). Her mother, Late Professor Naiyar Sultana was a Member of the Bangladesh Public Service Commission. She is an MP from the constituency of Rangpur – 6.
She has been brilliant in her academic and professional life. She passed her SSC in 1983 with the 1st position in combined merit list from Humanities. Then She got 2nd position in her HSC in 1985. She became first class first in her LLB degree from University of Dhaka in 1989. Later she completed her LLM with the same distinction from the same institution. She got the commonwealth scholarship and obtained her Ph.D. on Law from University of Essex. Her thesis was on "The Right to Life" and her area of Specialization is Constitutional Law and Human Rights.
In 1992, she enrolled as an advocate in the Bar Council. In 1994, she enrolled in the High Court Division and in 2008, in the Appellate Division of the Supreme Court. She has the portfolio of 15-year experience as an advocate in the Supreme Court of Bangladesh. She is a panel lawyer for the HPM Sheikh Hasina.
Her area of expertise includes: Human Rights and Constitutional Law, Commercial, Corporate Law, Contract, Banking Law, International Trade, Documentary Credit, Securities Law, Shipping/Admiralty, Construction, Turnkey Project on BOO / BOOT basis, Arbitration, Mediation, Criminal Law, Judicial Review by way of Writs in legal area. She holds keen interests in Sustainable Developments areas such as: Gender Issues, Pro-bono Public Interest Litigation, Inclusive and sustainable Development.
She has taught in various capacities in numerous institutions. The list includes:
• Resource Person in Bangladesh Bar Council in Bar Vocational Course (BVC)
• Resource Person in the Law Clinic of Law Department of Dhaka University
• Delivers lectures as Resource Person at Different Civil and Military Professional Training Institutions/Centres.
• Resource Person in the Institute of Law and International Affairs (BILIA) Judicial Training Program of the Assistant Judges on the "Independence of the Judiciary"
• Resource Person in Human Rights at BRAC University, Department of Law
• Resource Person in Public International Law and Human Rights & Legal Aid for Protection of Human Rights in Dhaka International University (DIU)
Besides, her efforts and contributions to the society have been recognized by many national and international entities. Dr. Shirin was awarded Asia Society's Humanitarian service Award on 09 June 2010 in recognition of her role as a leader in advocating the elimination of violence against women and mainstreaming women's empowerment and employment in Bangladesh. Dr. Chaudhury received this award from Ambassador Melanne Verveer, US Ambassador-at-Large, Global Women Issues in a gala award ceremony at the Ritz Carlton Hotel in Washington DC.
She was the editor Bangladesh Legal Decisions (BLD), Law Report Series published every month by Bangladesh Bar Council. (2003, 2004, 2005, 2006, 2007, 2008 Edition).
Also, she writes extensively. Her publications include:
• "Role of the Judiciary in the Development of Human Rights" published in 1999, in the book named Human Rights in Bangladesh, Ain-O-Salish Kendra (ASK).
• "The Least Dangerous Branch and the Power of Judicial Review: Impact on the Development of Fundamental Human Rights", published in 2000, in the book named Human Rights in Bangladesh, Ain-O-Salish Kendra (ASK).
• "Right to Life and Its Dimensions", published in 2000, in the book named Human Rights in Bangladesh, Ain-O-Salish Kendra (ASK).
• "Practice of Democracy: Importance of Free and Fair Election in Bangladesh" presented as Key Note paper in a Seminar organized by Bangladesh Institute for Law and International Affairs (BILIA), Bangladesh Heritage Foundation.
• "Electoral Rights: Bangladesh Perspective" published in "Let People's Voices be Heard", Conference Report on Human Rights and Governance, Local and Global Perspective, January 16-18, 2005, Manusher Jonno and Partners.
• "Regional Position Paper on Status of Women in South Asia" written for SAAPE as Regional Thematic Focal Person from Bangladesh.
• Developed dialogue, concept papers etc. with various relevant NGO's and Human Rights organizations on human rights issues.
Her husband is Mr. Syed Ishtiaque Hossain.
Source: Parliament Website