The Netherlands assured scholarships and reinvigorated educational collaborations with Bangladesh on a host of sectors ranging from upscaling of RMG products and personnel, blue economy, water diplomacy etc. This was an outcome of discussion between the Embassy of Bangladesh and the Dutch organisation for Internationalisation in Education (EP-Nuffic) in the Netherlands.  A delegation from the Embassy of Bangladesh in The Hague led by the Ambassador Sheikh Mohammed Belal called on the Director of EP-Nuffic Theo Hooghiemstra on 5 September 2017 and handed over a working paper detailing proposals of cooperation in different sectors of interests in Bangladesh.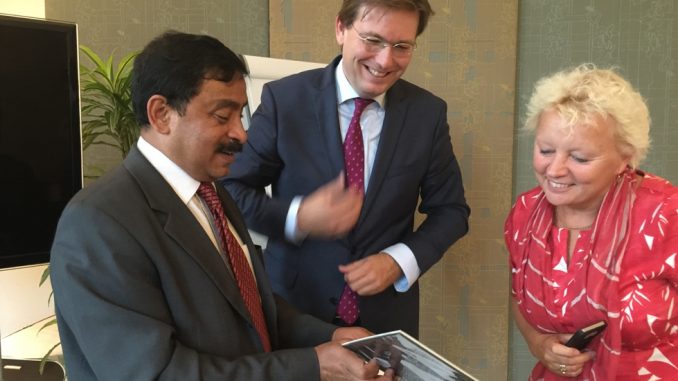 Based on the "Framework of Intent on Partnership for Knowledge and Innovation" singed in June 2015 in Dhaka between Bangladesh and the Netherlands during the twin-ministerial visit from the Netherlands, Bangladesh Embassy and the EP Nuffic working for sometime to work out sectors where enhanced cooperation could be implemented. During the said meeting, Ambassador Belal urged the Dutch side to consider upscaling of RMG/Textile sector on a priority basis to enable our RMG industries to upscale their products and services through incorporation of modern practices and technologies from leading Dutch institutions and organisations. The Netherlands, which is renowned for its prowess in fashion design and product development, fashion illustration and process, marketing techniques, branding, strategic negotiations etc have huge potential to help Bangladesh RMG and Textile industries upscaling across the whole value chain enabling to market its products for niche markets.
Capacity building assistance was also requested in water diplomacy, blue economy, judicial sector and modernisation of leather sector. Referring to global reputation of the Netherlands in water sector, Ambassador Belal sought Dutch assistance for grooming future diplomats and administrators  for peaceful use of water across the basin. On blue economy, Ambassador Belal elaborated on how Bangladesh earned its sovereign rights on a huge swatch of sea through peaceful negotiation and arbitration. In order to sustainable harnessing maritime resources incumbent government of Bangladesh embarked on a "blue economy" strategy and sought Dutch assistance for capacity building in this sector. He also requested support for capacity building of the Judicial Administration Training Institute (JATI) of Bangladesh.
Bangladesh and the Netherlands are also exploring options on enhanced collaboration for capacity building in the leather sector in Bangladesh. The Netherlands also recently undertook a detailed research based scanning of Bangladesh leather industry and offered to assist modernisation of the industry across the value chain.
It may be noted that EP-Nuffic has been engaged with a number of projects for capacity building of different institutions of Bangladesh mainly in water, food security and gender and reproductive health sectors for some years. During the meeting Counsellor of the Embassy Kazi Russel Pervez and Senior Program Administrator of EP-Nuffic Birgitte Vos were also present.