The Hague: Bangladesh pavilion drew a large crowd in the Netherlands flagship "Embassy Festival" in The Hague on 02 September 2017. Decorated in traditional cultural motif of Bangladesh and swarmed with colourfully dressed children and girls, the pavilion was full of visitors keen to know about cultural heritage and culinary diversity of Bangladesh.
Bangladesh Embassy was one of the 62 Embassies that put up their own pavilion in this flagship event called Embassy Festival. This is the second time Bangladesh Pavilion was there in the mosaic of diverse diplomatic community in the Netherlands.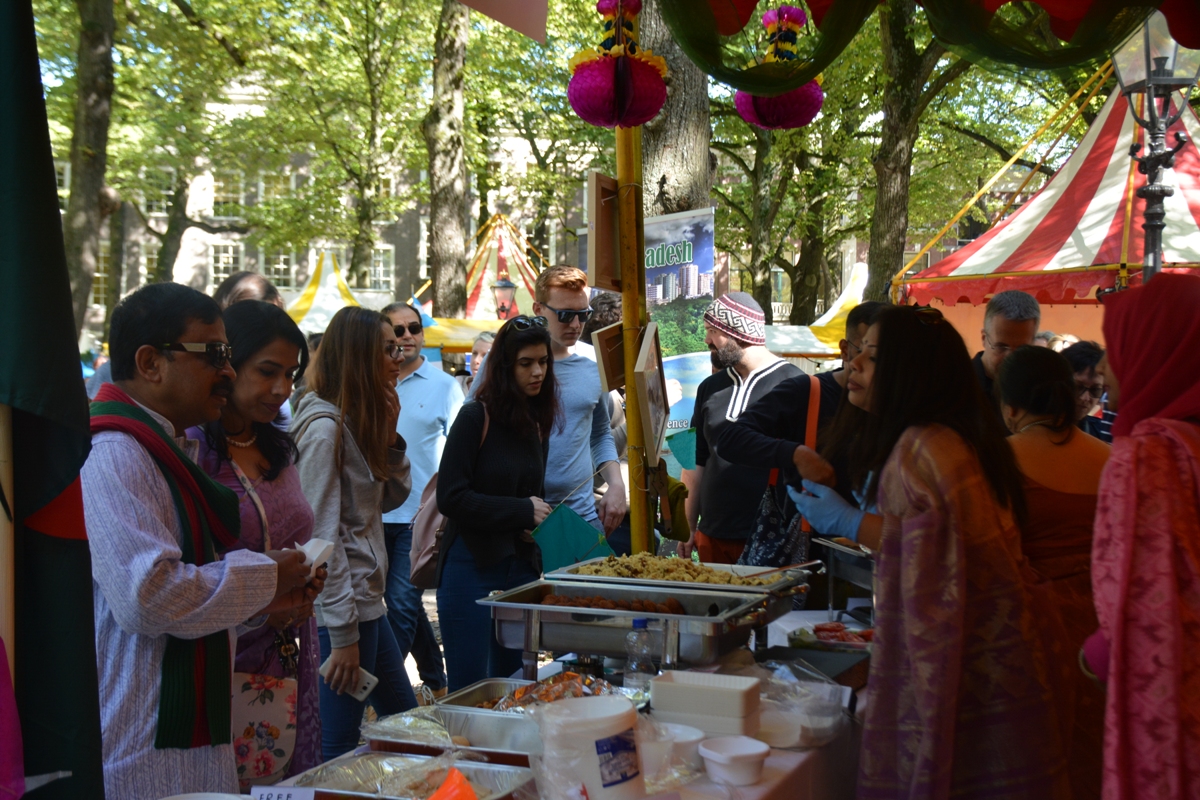 Thousands of people, along with family and friends, joined this Festival with fanfare and enthusiasm. Local Municipal Council made this event almost a "must" visit item with round the year preparation and publicity.  As it was a sunny autumn day, there were no end to the stream of visitors to this festival.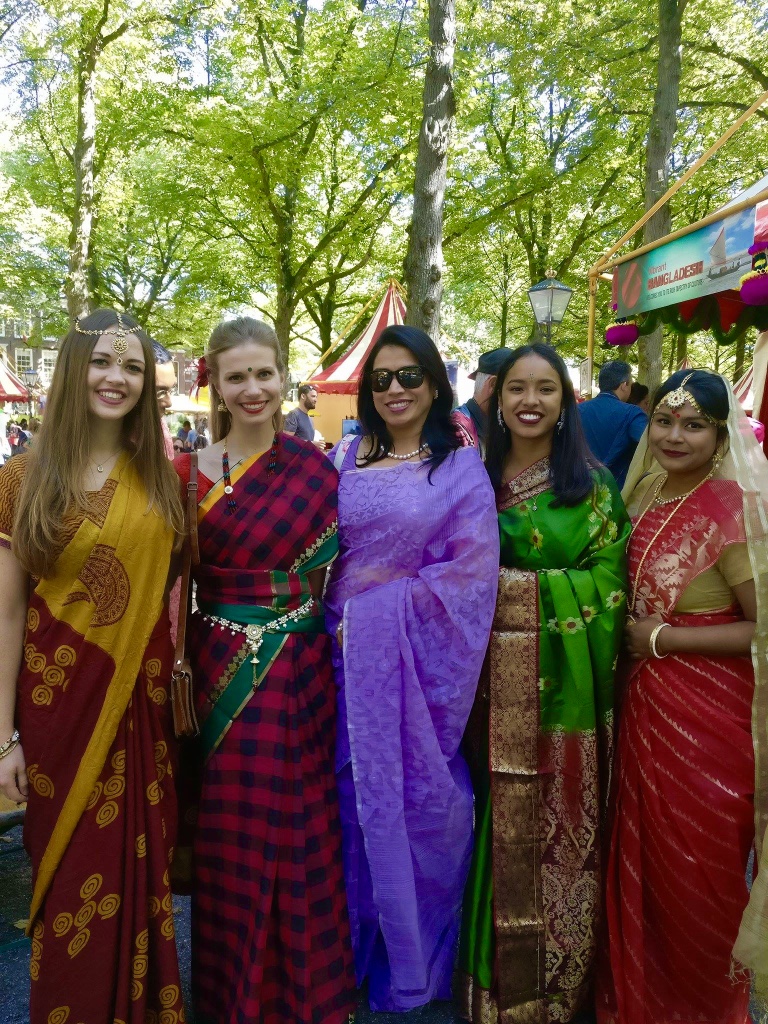 Throughout the festival day Bangladesh pavilion and the surrounding area was humming in Bangla as it has turned into the meeting point of Bangladesh community people.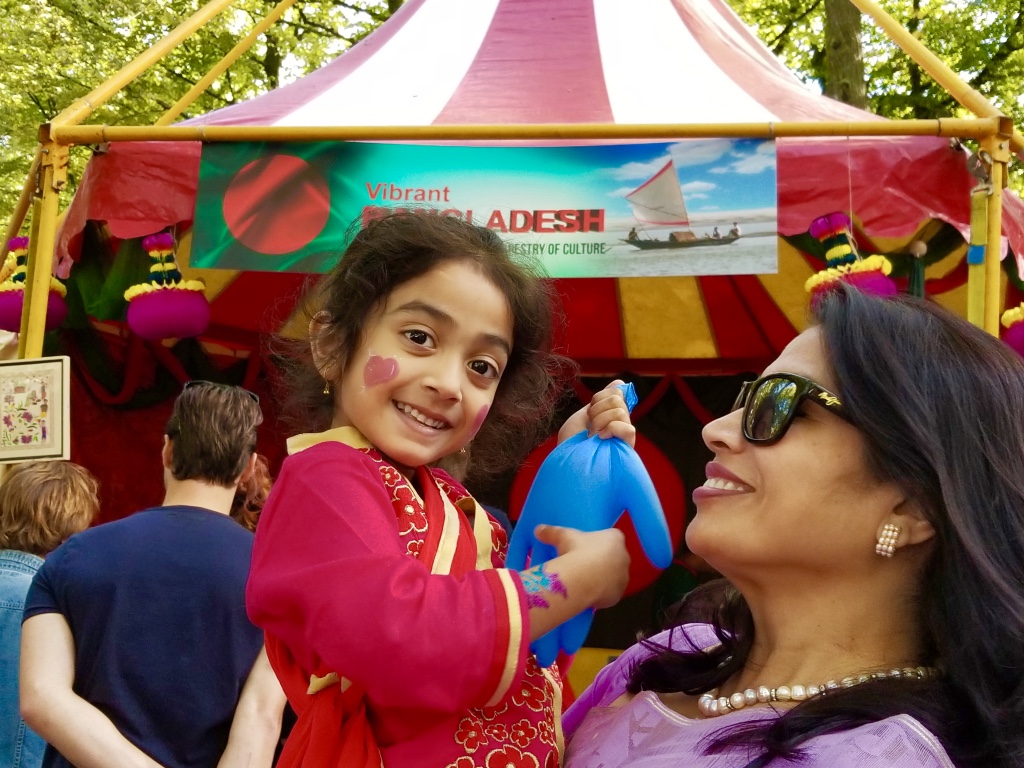 Bangladesh pavilion was decorated in green-blue theme with nokshi katha and other traditional items. As a demonstration of Bangladeshi cuisine, food items like shingara, piaju, chotpoti, biriani, fish chop, patishapta, narikel puli were on the offer. Bangladeshi food items were much in demand to both international visitors and expat Bangladeshis. Bangladesh pavilion also displayed traditional handicrafts typically made by the rural women which included nokshi katha, crafted clay pieces, jute goods, brassware etc. The visitors appreciated the handicrafts and some of them picked up the items of their choice. Some traditional Bangladeshi toys were distributed among children for free. Clad in traditional saree and other accessories the young Bangladeshi students attracted huge attention. Lot of people were seen requesting the children to pose for photos.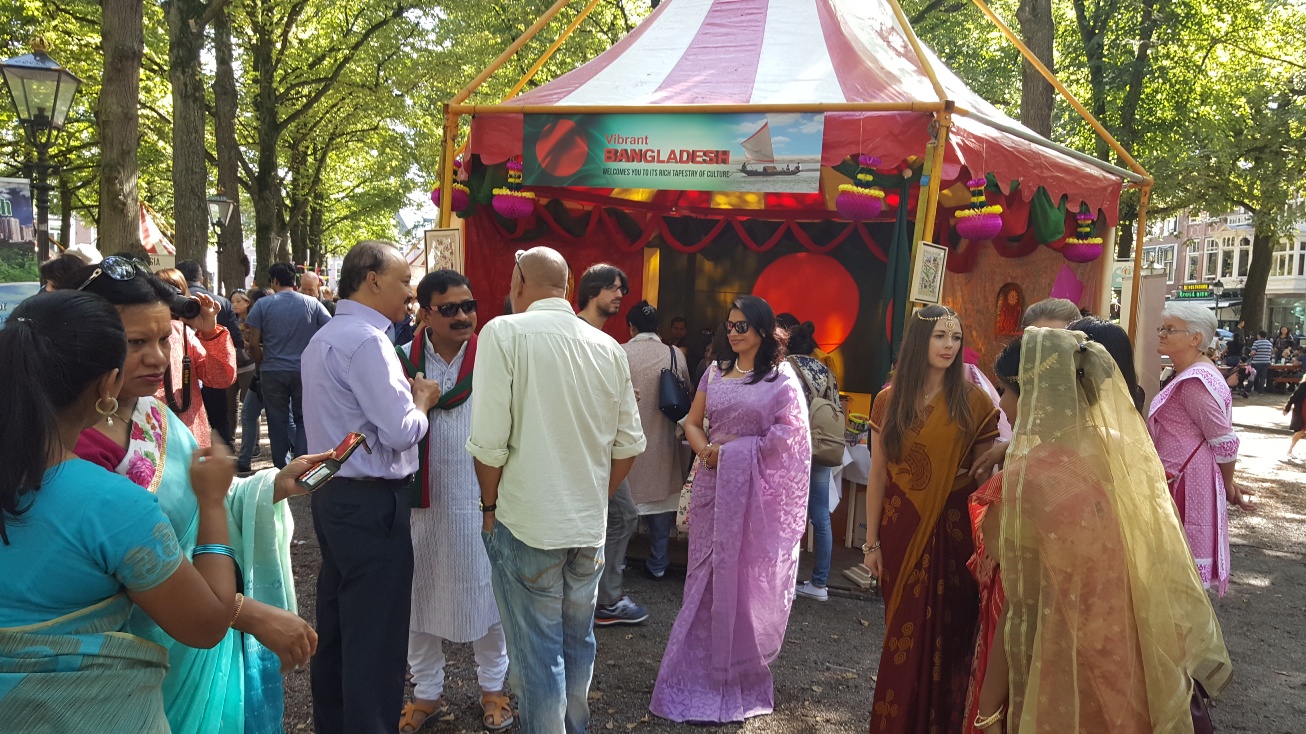 Bangladesh Ambassador to the Netherlands Sheikh Mohammed Belal and his spouse Dr. Dilruba Nasrin were present at the Bangladesh Pavilion throughout the day. They welcomed the guests to the pavilion and answered to the queries from the keen visitors. Ambassador Belal conveyed felicitations to the organisers for this opportunity for promoting diverse cultures and traditions. Taking advantage of the crowd, Bangladesh pavilion distributed posters, pamphlets, booklets etc highlighting ongoing development spree in the country as well as highlighting secular cultural tradition of Bangladesh. Proceeds from the pavilion shall go towards the flood affected people of Bangladesh.